The Art Doll Chronicles
" . . . an Art book,
one to be cherished for its richness in artistic process combining the written word with the collaboration of each piece."
~Susie LaFond, artist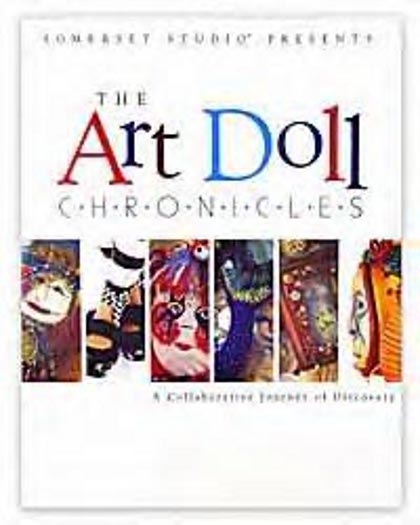 Signed Upon Request!
---
Art Dolls Stolen!
The exhibit at the Spruill Gallery in Atlanta closed early after it was discovered that two dolls were missing on February 19th, 2003.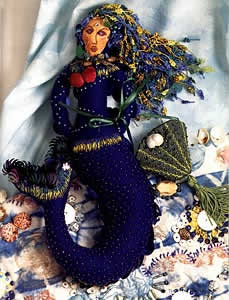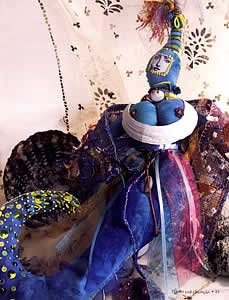 Anyone with information about the dolls should contact:
Dekalb County Police Department
North Precinct Detectives Bureau
Lt. Cortellino
(case number #03022728)
or
Catherine Moore
---
Trust and Surrender, an Art Doll Collaborative
In early 1999, Teesha Moore and I assembled an eclectic group of artists and began an art doll collaborative. Each of us designed a doll or a portion of a doll in the materials of our choice, as well as a journal to include our personal musings and documentation of the transformation. The dolls were then passed through the mail each artist adding her own voice to the group expression.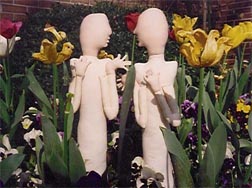 Equipped with a mere wisp of an idea, I entered my studio eager to explore this new art genre and ultimately emerged with a fully formed, although not yet mature, Violet. At some point, while constructing Violet, I began to entertain the idea of making two dolls, mirror images, that would be embellished by completely different artists. So it was, that not one but two collaboratives were born.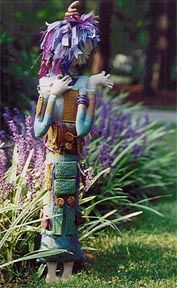 If you're wondering what happened to the other Doll, Ariel, Ariel was one of nine dolls brought forth through the collaboration between Teesha Moore, Lynne Perrella, Maria Moya, Keely Barham, Elizabeth Cherry Owens, Lesley Jacobs, Deb Braun, Rice Freeman Zachary and Catherine Moore. These dolls are the subject of THE ART DOLL CHRONICLES, a collaboration of discovery, a book released in February 2002.
Violet was one of six dolls spawned from the collaborative between myself, Linn Jacobs, Sherrill Kahn, Susan Longerot, Pat Vidal and Dee Dee Triplett. Violet's story and transformation will be featured in the January/February 2002 issue of Somerset Studio. Be sure to read my article for all the details of Violet's transformation!